Our E-Learning Courses
WHY WE'VE CREATED E-LEARNING COURSES
The Oxford College of First Aid has been successfully running Chartered Institute of Environmental Health (CIEH) accredited training courses for over 10 years. To pick just one example, during our ongoing ten year partnership with Hampshire County Council, we have trained over 5,000 of their delegates since April 2005.
Our traditional "face to face" approach to training brings many advantages to the learner and the number of different courses that we provide has been steadily growing throughout the years.
However, for certain subject areas and particular qualifications, delegates can benefit from an e-learning approach that enables them to learn in their own time and in the convenience of their own workplace or home.
THE BENEFITS OF OUR E-LEARNING COURSES
Some of the benefits of our e-learning courses include:
Delegates study at their own pace, not at the pace of the slowest member of a group
Delegates can study what they need and can skip parts of a program they already know
No time is lost travelling to and from a formal training venue
No time is lost on polite social interaction with trainers and other delegates
No time is lost on questions raised by others that may not always be relevant
The interactive nature of the course improves learning and knowledge retention
Learning is ensured as delegates must reach the CIEH approved score to pass
WHY YOU SHOULD USE OCFA FOR E-LEARNING
At OCFA, we are a
training company
first and foremost. Each e-learning course is first designed and developed on paper by our own highly qualified and experienced trainers. Only after this process has been completed and fully tested, do we then bring in our technical team to translate the learning into an online experience.
Our trainers then thoroughly road test the e-learning course themselves to ensure that all of the subject knowledge is being properly communicated to the delegate. We also have a team of trusted clients, who then beta test the e-learning courses and feedback helpful advice, enabling us to improve on areas such as the ease of use and user friendliness of the course before launching to the general public.
By going through this rigorous process, we are proud to be creating e-learning courses that sit at the forefront of this growing market.
LEVEL 2 AWARD IN FOOD SAFETY IN CATERING E-LEARNING COURSE
We are delighted to announce the launch of the first of our E-Learning Courses.
The EU Regulation (852/2004 Hygiene for Foodstuffs) requires all businesses, where food is prepared, cooked and handled, to ensure that all members of staff have been adequately trained in food hygiene, according to their role.
This course is designed for any employed or self-employed individual, who is involved in the preparation of food that will be consumed by the general public. This course is ideal for
nursery staff
,
schools
,
colleges
and catering departments of
hospitals
and
care homes
. It is also perfect for those working in
restaurants
,
hotels
,
fast food outlets
,
takeaways
,
cafés
and
bars
etc.
This course has been designed and developed by our own highly qualified food hygiene trainers and the syllabus includes the following ten modules:
Introduction To Food Safety
Food Poisoning
Microbiology
Contamination
Temperature Control
Cleaning
Personal Hygiene
Kitchen Layout and Design
Pest Control
The Law
Delegates should allow 2 hours to study and complete the course - each module contains multiple choice questions to confirm that the information is being understood and culminates in a final online exam.
On completion of this course, delegates will have a full understanding about:
Exactly why food hygiene is so important
The various circumstances where food can become contaminated
The prevention of contamination through cleanliness and other best practices
The prevention of contamination using correct temperature and storage processes
Their own personal and legal responsibilities to their customers
The serious impact to the business of a failure in food safety standards
There is also a Fast Track option available. This is ideal for those renewing their existing qualifications and for those already experienced in Food Safety.
Passing the final exam entitles the delegate to a certificate confirming that they have reached Level 2 Award in Food Safety in Catering.
DEMONSTRATION OF THIS COURSE
We have set up a short demonstration of this e-learning course for you to try before you buy.
Please click on the picture below to run the demo: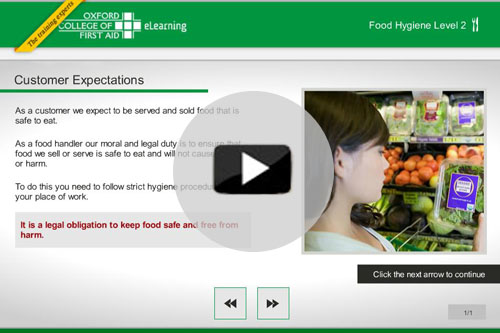 This E-Learning course runs on all PCs and Laptops running Windows 7 and above. A tablet version is currently under development.
CUSTOMER FEEDBACK
Although we only launched this e-learning course recently, we are already receiving fantastic feedback from our customers. Here are just a couple of examples:
"Excellent e-learning experience resulting in a firm grasp of essential knowledge, practices, and legislation required for safe food handling to avoid all types of food poisoning in the commercial/industrial environment; and useful tips to put into practice in the kitchen at home too."
"Hi Jane, I think it's perfect for the children."
Wendy Perry, The Marlborough C of E School
MONEY-BACK GUARANTEE
You are fully protected by our
24 Hour No Question Money-Back Guarantee
.
If you have purchased this product in error or immediately decide that this course is really not suitable for you, please contact us at
info@ocfa.co.uk
within 24 hours of your purchase
and we will refund your transaction in full. (providing that you have not run the course and downloaded the certificate, of course!)
LET'S GET STARTED!
At ONLY £15 + VAT for the course, this is the fastest and most cost-effective way of achieving your qualification, so please purchase today by clicking the button below.
LEVEL 2 AWARD IN FOOD SAFETY IN CATERING
E-LEARNING COURSE
ONLY £15 + VAT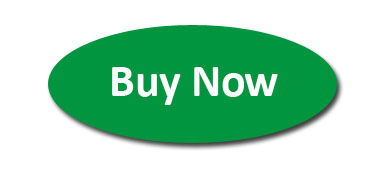 As soon as you have completed the purchase form and transaction, you will be able to download and run the e-learning course.
We can also licence this course for multiple delegates so, if this would suit you better, please email us at
info@ocfa.co.uk
or call us on
01235 810619
.